'Smart City' and 'Start-up' seems to be the hottest buzzword of the current times.You browse for development in any country or any sector every where you are bound to stumble upon this duo.However, we should have nothing to complain as both re aimed at achieving the mission of better quality of life for the masses. In this context, let me bring to light the "Accelerator Programme" 2016 organised by Startupbootcamp, the leading accelerator in Europe which encourages innovation  in the Smart City & Living ecosystem by providing the most promising tech-startups in the "Smart City & Living space"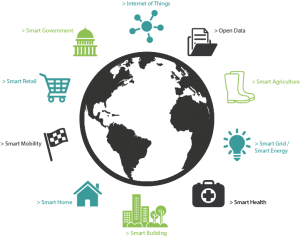 The name of the eleven chosen  startups which were adjudged as the best and thus  shall join their accelerator program this year were announced after an extensive selection from among three hundred and fifty plus applications from all across the world. Here goes the list of the most emerging start-ups packed with huge potential springing out of eight nations.
Cabture from Netherlands has come up with contextualized taxi advertising and user engagement experience via in-cab tablets.
Canard based in Spain has come up with a drone and 3D software to inspect airport runway lighting systems to help airports save money, applicable for oil/gas pipes inspection or windmills as well.
De Vinderij from Netherlands has created a network platform of students who give care to people from all generations; as a babysitter, housecleaner and assistant to elderly people.
Dipper based in China has created a 3D Simulation software and data processing for cities, natural resources, airport safety and more.
Mypo has designed a box that gets attached to the home door to never have to miss a delivery. Automatically lets a postman open the box, which is indestructible and thief-safe.
MyStay from the Czech Republic is a hotel communication system that guests use as a virtual assistant that guides them through their whole stay.
Nuklius based in the UK is a web and mobile app for corporate team managers which help recruit skilled resources for their projects. .
Quicargo of Israel is a real-time bidding platform for shippers through which they can book empty cargo space in an affordable and convenient way.
Twingz from Austria which has designed a home data management solution aimed at measure energy consumption and provide suggestions for improvisation.
The Construct based in Poland is a virtual reality app for phones that lets you experience the property that still has to be built for architect studios and real estate.
Virgla from Czech Republic which permits brands to interact, engage and reward their customers via a simple platform.
Though there is no Indian start-up which could claim their name  in the acclaimed above mentioned list of start-ups offering 'smart city' solutions yet the first top 20 smart cities selected are trying to create conducive environment to encourage such start-ups.The authorities are trying to implement their proposal and give real shape to the projects through the creation of SPV. The smart governance and the respective municipal corporations are leaving no stone unturned. They are conducting mutual knowledge exchange programmes and not hesitant to replicate the best practices to turn themselves into truly Smart Cities. Hope to see the dream of 100 smart cities of Narendra Modi government  come true pretty soon with numerous worthy Indian tech start-up offering smart solutions hovering in the Indian landscape.